My Foundation Routine


Primer
After I cleanse and moisturize my face I like to prime my face using Still Glamorus Cosmetics Foundation Primer. I only use about a nickle size amount for my whole face including my neck. This helps make my foundation last longer and also the primer acts as a barrier for my skin preventing blemishes caused by my make-up.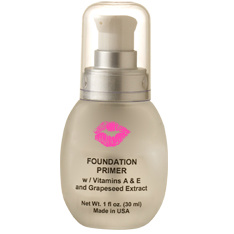 Foundation
After I have primed my face, I apply my foundation. My all time favorite foundation is the Revlon ColorStay. I am the shade Fresh Beige right now. Summer is leaving us so, I will eventually have to go a bit lighter. (This foundation does give full coverage to the face and it also has SPF 15 in it, so if you are looking for a full coverage foundation I highly recommend this one). I like to apply my foundation with a stippling brush from ELF cosmetics. Very affordable, only $3 from there studio line at my local target or at eyeslipsface.com

***Quick tip: if you have dry skin try applying MACs Fix+ before your foundation. This will help add a little more moisture to you face and it will give you that air brushed look***
Revlon ColorStay
Ulta $11.99
Concealer
I started to use Almay's Wake-Up concealer in Light/Medium. I like my concealer to be bit lighter then my foundation, that way it brightens up my eyes and it makes my skin look awake and fresh. To apply this I use the Deluxe Crease brush from Samantha Chapmans Real Techniques brush kit (Ulta $17.99) I only apply the concealer under my eyes and if I have any dark spots or blemishes.
Almay Wake Up Concealer
Powder
To set my foundation I use the Revlon ColorStay Pressed Power in medium. I don't use a lot. I like to tap my brush just a couple times in the product and apply it where my face gets oily the most. If you apply too much powder the face tends to look a bit cakey and that's not a good look haha. The powder brush I use is also from ELF cosmetics from the studio line. It was only $3
Revlon ColorStay Pressed Powder
0.3 oz.
Walgreens $9.99
That is it! :)
I hope everyone is having a wonderful day and thanks for taking the time to read my blog! XOXO